Chipmaker Qualcomm has teamed with Google to help expand its neural network technology across platforms. The firm will now use Google Cloud's Vertex AI Neural Architecture Search (NAS) Services, which will first be available on the Snapdragon 8 Gen 1 platform — recently launched at the annual Qualcomm Snapdragon Tech Summit.
The Snapdragon 8 Gen 1 Mobile Platform is Qualcomm's most powerful mobile platform to date, and it is the first in the company's line-up to use a new branding approach that avoids the triple-digit naming tradition of its predecessors. From the cutting-edge process used to build the chips to its updated CPU, GPU, and AI processing engines, to its extensive camera and imaging technologies, and its comprehensive array of wireless connectivity options, Snapdragon 8 Gen 1 boasts significant advancements in virtually every aspect of the platform.
The Snapdragon 8 Gen 1 will be built on cutting-edge 4nm technology and include a combination of Arm CPU cores — a total of eight. A single high-performance Prime Cortex-X2 core (up to 3GHz), three Cortex A71 Performance cores (up to 2.5GHz), and four Cortex A51 Efficiency cores make up the upgraded Kyro CPU complex (up to 1.8GHz). The Prime core is utilized for threads that require the most priority (and performance), while the Performance cores do the remainder of the heavy lifting, with the Efficiency cores providing support for less-demanding background operations.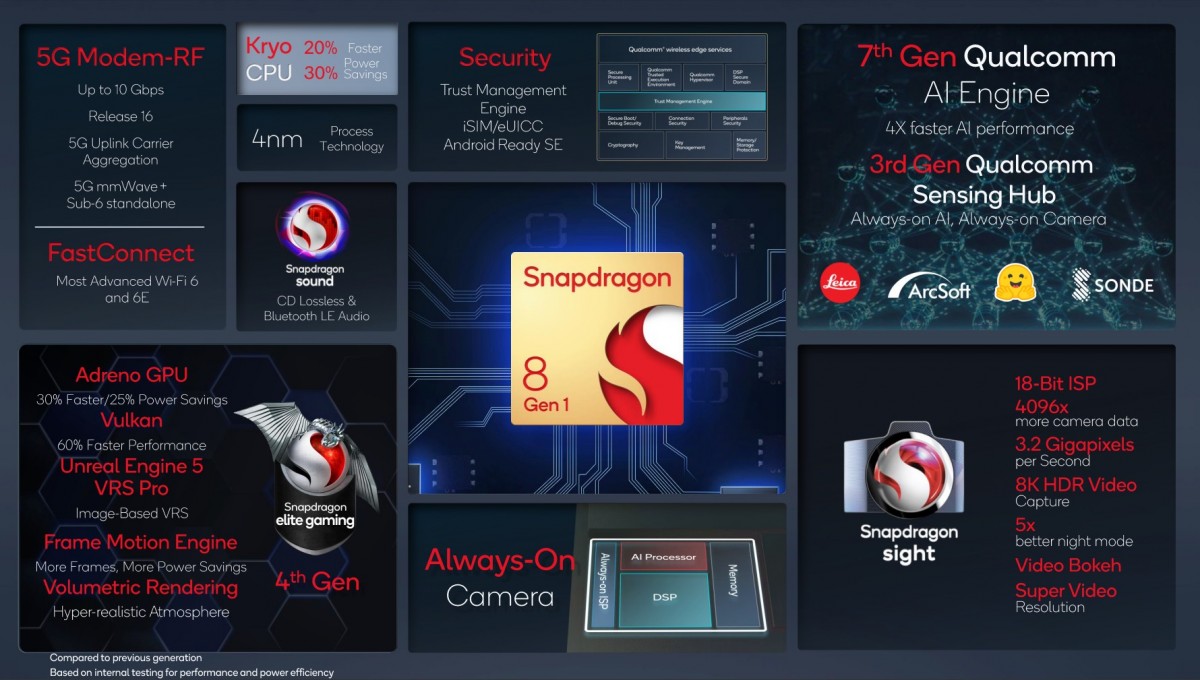 Through Snapdragon 8 Gen 1, Qualcomm Technologies will offer high precision AI with low latency to low-power devices like IoT, medical images, automobiles, and mobile devices using Google Cloud's Vertex AI NAS, while maintaining memory and energy efficiency.
While the NAS will be accessible on Qualcomm's new flagship Gen 1 mobile platform, it will gradually be rolled out throughout the Qualcomm range.
According to Qualcomm, NAS will be used to "accelerate neural network development and differentiation" for Snapdragon mobile, ACPC, XR, the Snapdragon Ride automotive platform, and IoT activities once it is integrated with 7th Gen Qualcomm's Artificial Intelligence (AI) Engine.
Thanks to an improved Qualcomm Hexagon processor with double the shared memory and a tensor accelerator that's twice as fast, the 7th Gen Qualcomm Artificial Intelligence (AI) Engine on-board is supposedly 4X quicker than its predecessor Snapdragon 888+ 5G. A Qualcomm Sensing Hub 3rd Generation is also included in the design, which handles the always-on sensors and consumes less power than its predecessors. Qualcomm claims a 1.7X gain in battery efficiency in addition to its massive AI performance boost.
Qualcomm claims that the Snapdragon 8 Gen 1's Adreno GPU renders graphics 30% quicker than the Snapdragon 888 in this generation. This generation also outperforms the Snapdragon 888 in terms of power efficiency by a stunning 25%.
For developers, Google Cloud Vertex AI NAS will be included in the chipmaker's Neural Processing SDK, operating on the Qualcomm AI Engine. Platforms that use the AI Engine will be able to benefit from "optimizations and performance enhancements," adds Qualcomm. This will also allow the company to build and optimize new AI models in weeks rather than months.
Read More: Google Cloud launched Its Visual Inspection Artificial Intelligence Tool
Vertex AI Neural Architecture Search was launched by Google Cloud in May as a single platform for designing, deploying, and maintaining AI models. Vertex AI requires over 80% fewer lines of code to train models than existing platforms. Google claims it is the same framework that is used internally to power Google, with capabilities ranging from computer vision to language and structured data.
While Vertex AI is an assortment of various tools, Qualcomm emphasized on the Neural Architecture Search. Its goal, as the name suggests, is to improve AI models. NAS allows data scientists to tune a model for specific hardware without having to train it manually. Based on the use case, they can also impose limitations on the model's size or other characteristics.
"The ability to utilize Google's NAS technology to create and optimize new AI models in a condensed time frame is a game changer for our business," said Ziad Asghar, Vice President of product management at Qualcomm. Ziad added, "We are happy to be the first chipset company to work with Google Cloud on NAS and eager to roll out this technology to further our momentum in connecting the intelligent edge."