On January 29th, the world's first voice NFTs, offered by Voiceverse, went on sale with 8,888 NFTs. In a highly rare occurrence for NFT collections stored on the Ethereum blockchain, the collection title 'Voiceverse Origins' got sold out in less than 10 minutes after being on sale to the general public.
Voiceverse, founded by three BAYC (Bored Ape Yacht Club) members, aims to lead the NFT space into the next generation of high intrinsic value NFTs, allowing holders to possess a voice in the metaverse. People can now add a voice to their Profile Picture (PFP) NFTs with Voice NFTs, giving them a new level of personalization and pseudonymity. Voiceverse further claims that, contrary to popular belief, Voice NFTs will disrupt the business by providing a new stream of possibilities for Voice Actors.
Holders of verbal NFTs can use their voices in a variety of metaverse settings, including games, video calls, and other social media. They can also mint a voice NFT using their own voice or, with explicit permission, the voices of those they near and dear. Owners can even generate a new NFT by combining different voice NFTs. Users can also give their existing PFP NFTs a new life by adding voices to them.
LOVO, the parent company of Voiceverse, is headquartered in San Francisco and Seoul and starts in the AI Speech Synthesis space. Many celebrity voice actors have already collaborated with the venture capital-backed startup to make Voice NFT project. Voiceverse promises the actors that lent their voices to Voice NFTs would get royalties.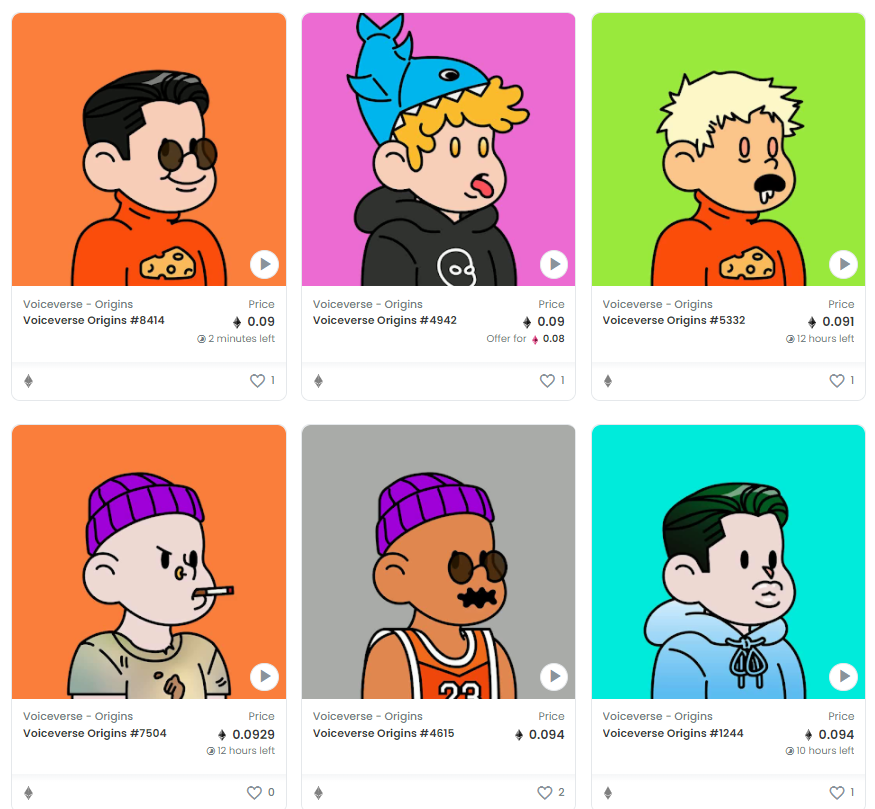 Voiceverse Origins sold out in 10 minutes after a week of pre-sale and has been trending across all categories on OpenSea. It has also consistently ranked in the top ten in terms of sales volume (by count). Voiceverse, with its background in AI and speech synthesis, is poised to disrupt the industry and kickstart a trend toward second-generation NFTs.
Read more: YetAi to Launch SOLANA blockchain-based AI-Generated NFTs in 2022
While the mass-market potential of NFTs is yet to be unfolded, the introduction of Voice NFTs after recent trend of iNFTs does bring a new dimension to the NFTs bubble. Meanwhile, proponents of metaverse believe that blockchain-based products will completely dominate the technology hype in the coming years. As NFTs are slowly finding application and adoption in IoT, healthcare, smart city projects, the advent of voice NFTs can unlock new opportunities.