At the Peak Performance Event 2022, Apple introduced the new M1 Ultra chip, which is touted as the next breakthrough chip for the Mac. According to Apple, this is the latest chip in the M1 system-on-a-chip design family, which includes the M1, M1 Pro, and M1 Max. Here, the system-on-a-chip design means the CPU, GPU, RAM, storage and media engine are all included in one big chip. However, the M1 Ultra will only be available in the Mac Studio, unlike Apple's other SoC's. An M1 Ultra-powered Mac Studio will start at $3,999 in the US, £3,999 in the UK, and AU$6,099 in Australia. The products are up for pre-order now and will ship from March 18.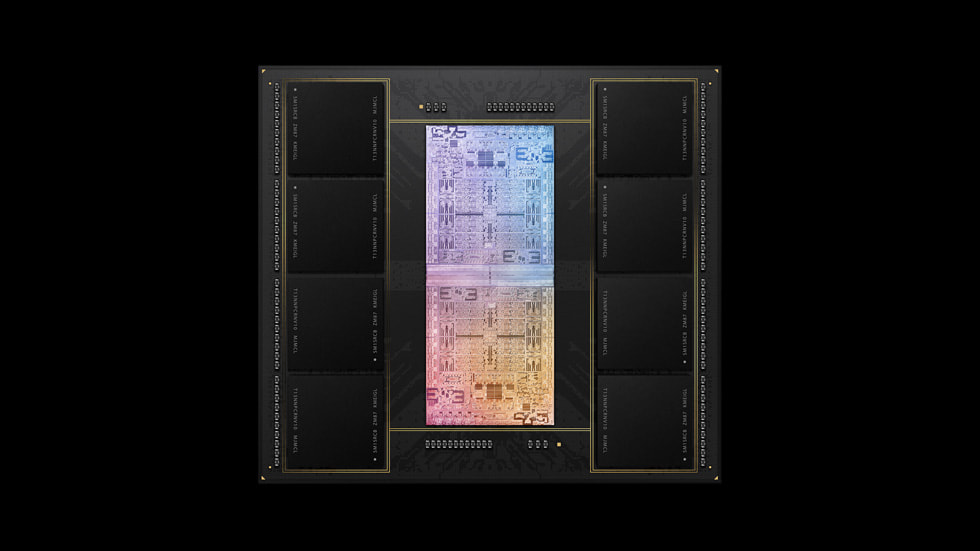 The M1 Ultra can hold up to 128GB of unified memory, has a 64-core GPU and a 32-core neural engine for machine learning workloads, as well as a 20-core CPU with 16 high-performance cores and four-efficiency cores. The high-performance cores take care of heavy workloads while the high-efficiency cores handle the background tasks as they appear. According to Apple, it's almost eight times faster than the M1, which drives the current Mac Mini. Apple also claims that M1 Ultra also beats 10-core desktop chips in CPU performance per watt, both in terms of CPU and GPU, though it did not reveal the desktop chips which it used for comparison.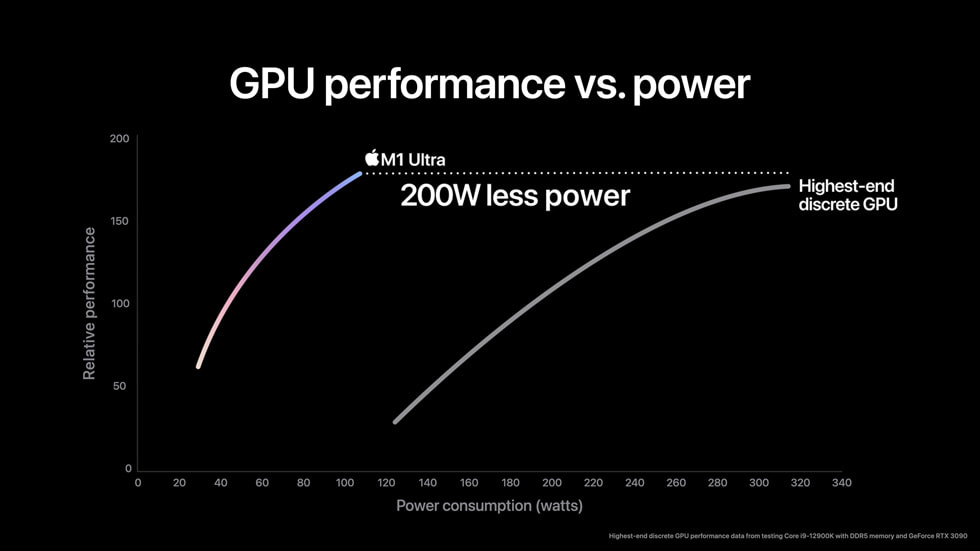 The Ultra is made up of two M1 Max dies that share a connection. This interconnect architecture is dubbed "Ultra Fusion" by Apple. Instead of using traces on the motherboard to interface slotted memory to the CPU, Apple placed the memory chips right next to the SoC box and connected them with an interposer. The latency is considerably reduced by bringing the memory closer to the processor units. It also frees up some space on the motherboard for other functions or decreases the device's total footprint.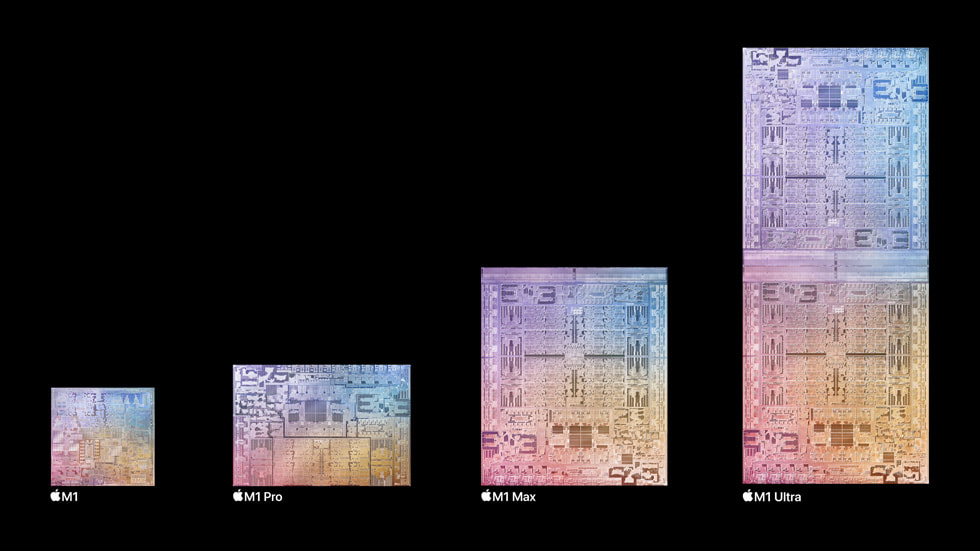 The Ultra Fusion technology employs a silicon interposer that links over 10,000 signals and delivers 2.5TB/s of low-latency inter-processor bandwidth between the two dies while consuming very little power. Apple asserts this is more than four times the bandwidth of the current multi-chip interconnect technology. With 114 billion transistors, Ultra-fusion effectively considers two chips as one in software, which is 7 times more than M1.
M1 Ultra is power efficient, as mentioned in the preceding paragraph, meaning that the new chip may give a higher performance while using as little as 100W less power. Apple claims it gives 90% more performance for the same amount of electricity as an Intel Core i9. As a result, less energy is used and fans operate silently, allowing you to utilize demanding software like Logic Pro with ease. Furthermore, Apple claims that the M1 Ultra is 90% quicker than a Mac Pro with a 16-core Intel Xeon CPU when running at maximum speed. It's worth noting that Apple's chips are based on the Arm microarchitecture rather than the x86 used by Intel and AMD.
Read More: Apple Event 2021: Everything about the new A15 Bionic chip Explained!
The performance of the M1 Ultra is undeniably outstanding. Sources report that the total multi-threaded score on Geekbench 5 run was 24,055 points. This is an incredible feat considering the M1 Ultra only has 20 cores, with an advertised power consumption of just 60 watts according to Apple. For reference, AMD's Threadripper 3990X with 64 Zen 2 cores is just 4.5% faster, coming in with 25,133 points. That would make the M1 Ultra 4.7x more efficient compared to the power-hungry 3990X with its 280W TDP.
At the same time, Intel's 16 core i9-12900K displayed a 40% loss compared to the M1 Ultra, almost confirming Apple's claim.
Nothing compares to M1 Ultra in terms of graphics memory for GPU-intensive applications like working with extreme 3D geometry and rendering huge scenes says Apple.
The M1 Ultra's 32-core Neural Engine performs up to 22 trillion operations per second, accelerating even the most difficult machine learning workloads. M1 Ultra also boasts exceptional ProRes video encode and decode throughput, with double the media engine capabilities of M1 Max. The new Mac Studio with M1 Ultra, in fact, can play back up to 18 streams of 8K ProRes 422 video, a feat that no other processor can match. Additionally, it can support up to five displays, four of which can be the 6K Pro Display XDR along with a fifth 4K display.
Apple revealed that Mac Studio powered by the M1 Ultra is 1.9X faster than a Mac Pro with a 16-core Intel Xeon processor, and 1.6X faster than a Mac Pro with a 28-core Xeon processor.
For other important launches at Apple Peak Performance Event, visit: