Baidu Inc. is a prominent artificial intelligence inventor and one of the largest suppliers of Chinese language Internet services in the world. Together with Alibaba and Tencent, the business has helped China establish itself on the global digital map while simultaneously growing its economy.
Last Wednesday, Baidu announced that it has started mass-producing second-generation Kunlun (Kunlun II) artificial intelligence (AI) chips, as it competes to become a major player in the semiconductor sector.
The Baidu Kunlun II uses a unique architecture XPU in its 2nd Generation, allowing it to achieve up to three times the performance of its predecessor. This implies it will be able to triple the throughput of the Kunlun 1. The first generation 14 nm Kunlun K200 Chipset, introduced three years ago and designed for the cloud, edge, and autonomous car applications, delivers about 256 INT8 TOPS performance, 64 TOPS INT/FP16 performance, and 16 INT/FP32 TOPS performance at 150 Watts. It entered mass production in early 2020.
If the claims are to be believed, the new Kunlun II will offer 512 to 768 INT8 TOPS, 128 – 192 INT/FP16 TOPS, and 32 – 48 INT/FP32 TOPS throughput. Because it supports the same formats as earlier chips, Kunlun II is expected to be used in the same environment as older chips, namely Baidu's cloud data centers, where it will also be used to run an autonomous vehicle control platform (Apolong) and other tasks. Currently, the Kunlun II chips will enable deep learning frameworks such as Baidu's open-source deep learning platform, PaddlePaddle. The chip processor is also optimized for AI technologies such as speech, natural language processing, and images.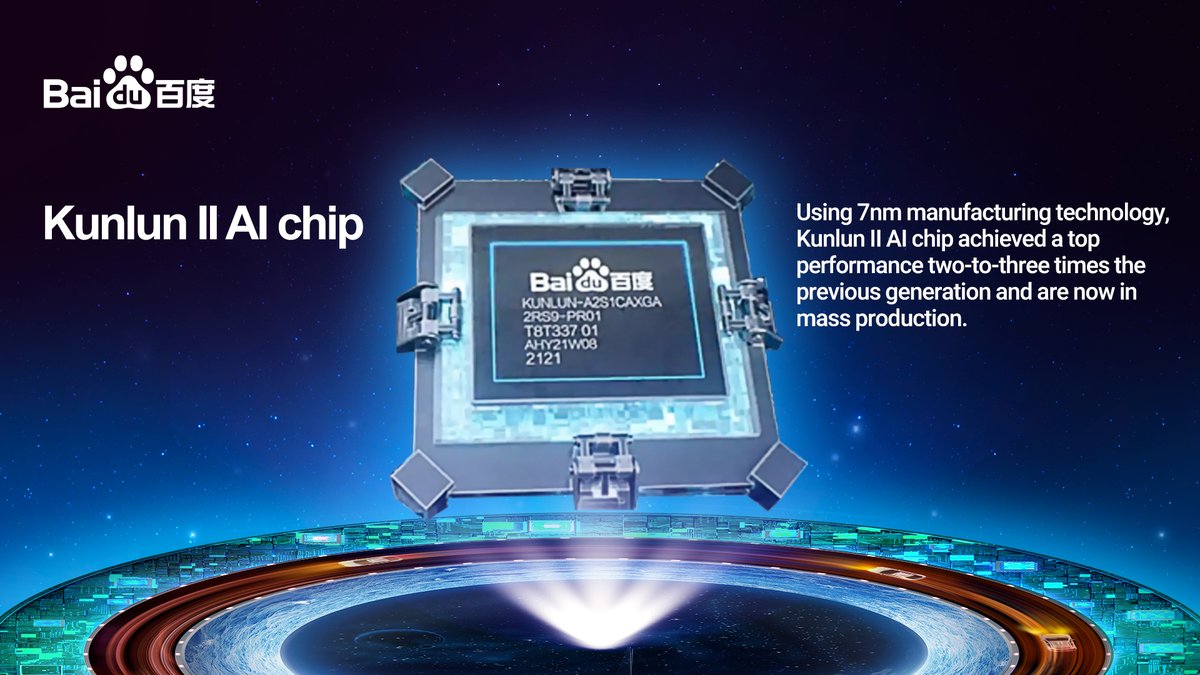 The announcements were made at Baidu World 2021, Baidu's flagship annual technology conference which showcases Baidu's experience in AI technology and industry practice, as well as its attempts to make AI more accessible. During the event, Baidu also unveiled Baidu Brain 7.0. The newly improved Baidu Brain 7.0 provides deeper integration of a diverse set of knowledge sources and deep learning, including language comprehension and reasoning, by leveraging a variety of unified technologies to provide output in language, audio, and visual formats.
Read More: Baidu unveils autonomous robocar with L5 autonomy
According to the company, the previous edition, Baidu Brain 6.0, has developed over 270 core AI capabilities and produced over 310,000 models for developers, making it a significant driver of intelligent transformation in various sectors. Baidu also adds that the Baidu Brain 7.0 is one of the world's largest AI open platforms.
Coupled with Kunlun II, Baidu Brain 7.0 will usher in a new age of AI applications.
At the annual technology event, Baidu presented a self-driving 'Robocar' prototype. The robocar has a boxy design with gullwing doors, a transparent glass roof, and a display in the front to interact visually with its surroundings. To allow its autonomous driving capabilities, the body of Robocar is connected with a set of external sensors. Despite the fact that the concept car demonstrates Baidu's goals in Level 5 autonomous driving, no word has been given on whether it would be mass-produced.
Baidu had also announced four new pieces of hardware, which includes a smart screen and a TV equipped with Xiaodu, the company's AI voice assistant.