OpenAI rolls out the pricing of its GPT-3. A researcher named Gwern Branwen revealed the subscription plans through a Reddit post. It was mentioned that the users who got access to the beta API of GPT-3 had received the subscription plan of the largest natural language model. However, not many would be able to get their hand on the model extensively as GPT-3 costs around $100 to $400 per month.
There are different pricing plans: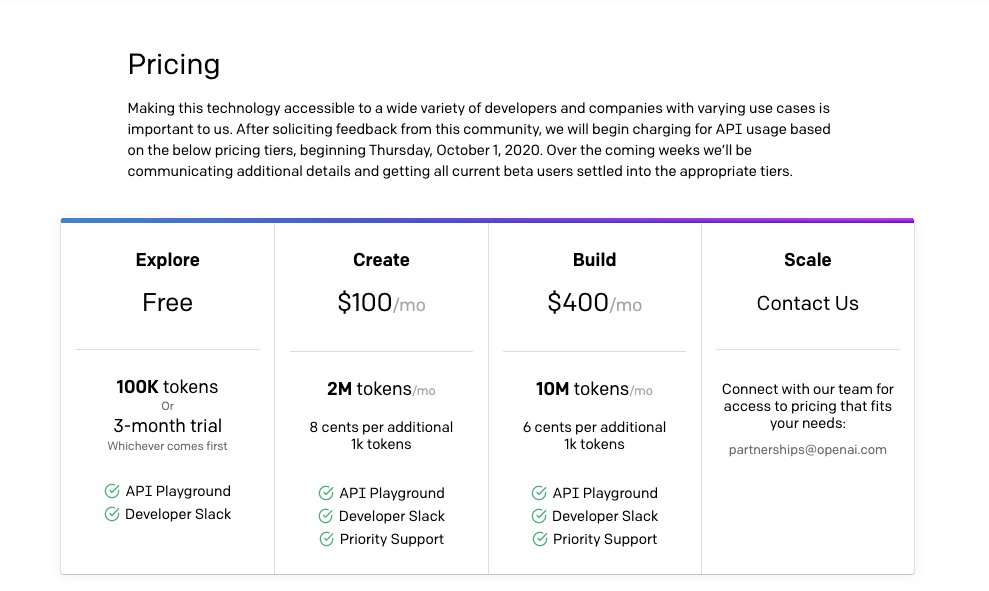 Explore: 3-month free trial with a limit of 100K tokens
Create: $100/month with a limit of 2M tokens. 8 cents for every additional 1K tokens
Build: $400/month with a limit of 10M tokens. 6 cents for every additional 1K tokens
Scale: You will have to contact OpenAI
As per Branwen, 3,000 pages of text can be written by GPT-3 by utilizing 2M tokens.
OpenAI started private beta on 11 July, where one can request for access to the API for free. But, from 1 October, users will have to pay to leverage the arguably superior artificial intelligence language model.
Also Read: OpenAI Invites For It's Scholars Program, Will Pay $10K Per Month
This does not mean that the API will be available for the general public from 1 October; it will still be private. Nevertheless, you can assimilate the pricing, although the plans may change in the future.
Since the release of GPT-3 API, users have created never-before-seen use cases such as code generation, semantic search, chat, synthetic writing, among others. A wide range of GPT-3 examples can be accessed on the official site of OpenAI.
Although many see GPT-3 as a game-changer, several practitioners, along with the CEO of OpenAI, believe that the model is overhyped.
Undoubtedly, uses cases of artificial intelligence that look good on social media rarely comes to life due to several constraints during productization.
Also Read: LinkedIn Fairness Toolkit (LiFT) For Explainability In Machine Learning
Consequently, we will have to wait and see whether the model can assist researchers and data scientists in building groundbreaking real-world solutions.
With the uncertainty of GPT-3's effectiveness in the real-world, the pricing of the GPT-3's API might be costly for developers to leverage the model once it is released for everyone.